Responsibility developed on many fronts
Since the volume of central acquisitions is quite significant, cooperation with suppliers and customers forms an important element in the impact and responsibility of Hansel's operations. Responsibility and its monitoring are being developed with systematic operations as a goal, and examples from other operators are being looked at.
The core of the corporate responsibility aspect of a framework agreement is formed during the tendering competition, at which time the extent of responsibility required from the acquisition is determined. The responsibility of framework agreements is also maintained during the contract period: Hansel monitors that the requirements specified during the tendering process are met as agreed.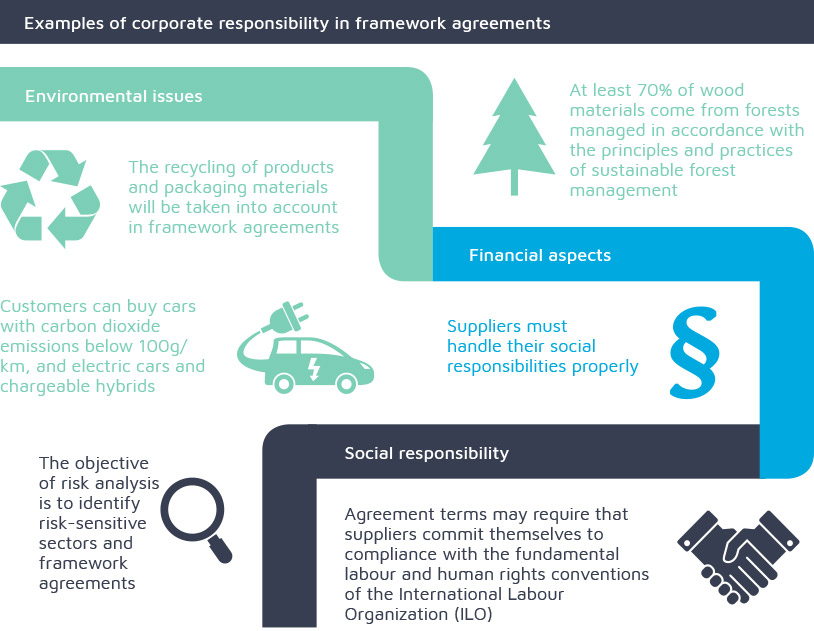 The financial status of the suppliers is monitored automatically for the entire contract period.
The financial status of the suppliers is monitored automatically for the entire contract period. The corporate responsibility aspect of framework agreements during the contract period is also monitored in supplier meetings, during which the fundamental responsibility matters for each framework agreement are discussed. If the financial responsibility risk indicators change, for example, Hansel and the supplier discuss how the situation could be rectified.
"The monitoring of suppliers' financial situation has worked well, and we have always been informed of potential risks well in advance. We wish to support our suppliers if they are facing difficulties and to give them a chance to fix any financial problems. If necessary, we also inform our customers about the situation", says Susanna Närvänen, Chief Category Officer at Hansel.
In addition to financial responsibility, Hansel also wants to monitor other responsibility areas more systematically, and the development of monitoring practices is one of Hansel's strategic goals.
To promote social responsibility, Hansel and the Swedish central procurement unit SKL Kommentus have started examining the possibilities for cooperation. The purpose of such cooperation would be to focus on the auditing of the social responsibility in procurement, in particular.
"The central procurement unit for Swedish municipalities and provinces, SKL Kommentus is a useful partner for Hansel. It has years' worth of experience of the development of social responsibility, and several of its experts work mainly with corporate responsibility. There are several possible cooperation models. One option would be to utilise SKL Kommentus' framework agreement offering responsibility audits, in one way or another. During 2018, we are going to find out whether our customers might have need for similar responsibility audits", explains Kirsi Koivusaari, Director of Finance.
More responsible procurement as part of customers' everyday operations
The procurement development unit's achievements for 2017 included the preparation of an operating model that helps improve customer organisations' corporate responsibility. Completed in late 2017, the model will be used in the development of customers' responsibility-related activities.
Read more >>
Top