Personnel
At the end of 2017, Hansel Ltd employed 94 people. During the year, 28 new employees were hired and eight resigned. Hansel's position as a leading player in procurement acted as a springboard for several professionals to move on to new challenging positions. An exit interview was conducted with people who resigned to determine how they had enjoyed working for Hansel, how the work community could be developed, and what possibilities there are for professional growth.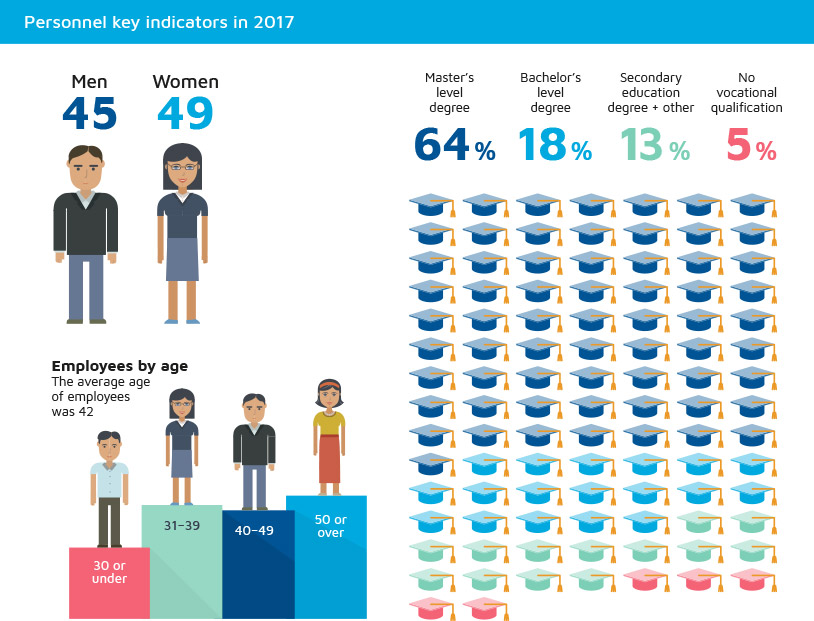 Collective agreement and cooperation with employee associations
Hansel's collective labour agreement was negotiated with Service Sector Employers PALTA and the Federation of Professional and Managerial Staff (YTN). The Agreement is valid until further notice. The labour agreement applies to all Hansel personnel, except for the Managing Director. As specified in the labour agreement, personnel are represented by a workplace steward and his or her deputy, selected from amongst the staff.
The interests of the personnel are also promoted by the personnel association (Hanselin ylemmät toimihenkilöt ry), which is a member of YTN. Roughly half of Hansel's personnel are trade union members. The collective agreement and employment guidelines are available on the company's intranet.
Average age of Hansel employees lower
As a result of the large number of new recruitments, the average age of the personnel was reduced by two years. This and other interesting facts about us at Hansel are available on the statistics page, which includes key figures from the past five years.
Read more >>
Top